Menkes debutante
MDEB-SOL-BEI-35
00

Days

:

00

Hours

:

00

Minutes

:

00

Seconds
Menkes intermediate leather flamenco shoe, made in Spain.
5 cm standard heel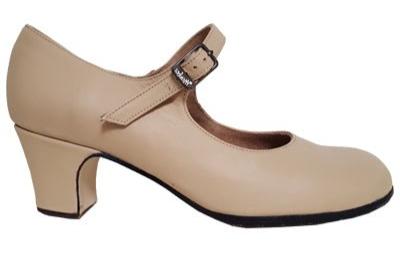 Menkes debutante
Shoe size chart
SIZING
Flamenco shoes should have a snug fit worn without socks. When trying on new shoes, they should feel tight with no extra space on the back of your shoe. Ankle should not move up and down when pressing on your toes and raising your heel. If your shoes feel comfortable when trying on, they might be too big. If your feet slides to the front when walking or dancing, they are too big. If you have bunions or wide feet, please size up. By sizing up you will fix the width issue but will need a half insole to correct the length.
In most cases flamenco shoes will be a size less than street European sizes.
MEASURING
Stand up straight against a wall. Your weigth should de evenly distributed among both feet. Have someone else trace your foot. Make sure the pen is perpendicular to the floor at all times. 1 inch=2.54 cms
Women's  Flamenco Shoe Size Chart
| Flamenco Size | CM |
| --- | --- |
| 35 | 23.3 |
| 35.5 | 23.7 |
| 36 | 24 |
| 36.5 | 24.3 |
| 37 | 24.7 |
| 37.5 | 25 |
| 38 | 25.3 |
| 38.5 | 25.7 |
| 39 | 26 |
| 39.5 | 26.3 |
| 40 | 26.7 |
| 40.5 | 27 |
| 41 | 27.3 |
| 41.5 | 27.7 |
| 42 | 28 |
| 42.5 | 28.3 |
| 43 | 28.6 |